Bridging Psychodrama and Adult Education - ein EU- Projekt

...mit Best Practise Beispielen:
In der Woche vom 16.6.2010 bis 20.6.2010 fand in Krakow das Grundtvig Seminar zum Thema "Bridging Psychodrama and Adult Education". Es wird veranstaltet von den Projektträgern des EU- Projektes: Psychodrama on the educational stage.
Das EU- Projekt beschäftigte sich mit den Einsatzmöglichkeiten von psychodramatischen Methoden im Bildungsbereich/ Erwachsenenbildung/ Schule. Vier EU- Staaten arbeiteten im Projekt: Portugal, Zypern, Polen (Träger), Rumänien. Siehe: http://www.potens.com.pl/
Das Ergebnis ist in einem Handbuch und einer DVD zusammengefasst worden.
Von 12 EU- Ländern waren Vertreter aus Schule und Erwachsenenbildung anwesend:
Estonia, Finland, Sweden, Lithuania, Belgien, Germany, Poland, Romania, Italy, Slowania, Germany, Zypries, Portugal, Turkey.
---

Zugang zur e - learning - Plattform vom POTENS Projekt.
To the e- learning platform of the POTENS- Project: http://www.est.iq.pl/dokeos/index.php?language=english
---
GRUNDTVIG SEMINAR:
"This project has been funded with support from the European Commission. This publication reflects the views only of the author, and the Commission cannot be held responsible for any use which may be made of the information contained therein."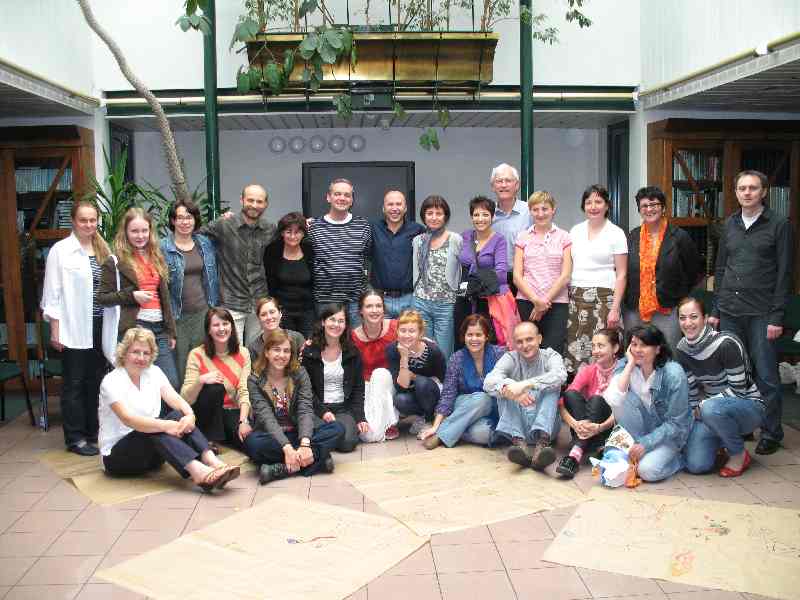 Transnational Grundtvig seminar was in June 2010 in Kraków; Center of Jewish Culture.
Duration - 4 days. Language - English
Presence of 12 EU- Countries
The most important objectives of Grundtvig seminar are:
To organise international forum for the exchange of experiences and observations based on workshops run in four different countries with the involvement of both psychodrama and AE experts
To discuss possibilities of further work in this field
Presentation of the project publications (film and handbook) and panel discussions on specific aspects of the methodology developed, its applications in the workshops and potential for further development
POTENS Project: Psychodrama on the educational stage
Grundtvig seminar "Bridging Psychodrama and Adult Education"
International panel of adult educators and psychodrama trainers. Forum for the exchange of experiences and observations based on workshops run in four project countries and for discussing possibilities of further work in this field.
Number of participants – at least 15 from at least 5 EU countries, including representatives from each partner organizations and workshop participants, as well as external experts of psychodrama and AE.

PROGRAM and overview over the PSYCHODRAMA ACTIONS
16-20 June 2010, Cracow, Poland
In the Judaica Foundation Conference center, 17 Meiselsa street
1st Day, 16 June, Wednesday
15.00-16.30 Welcome and introduction to the project - presentation by Teatr Grodzki – Project Coordinator
"Lifelong Learning Program – Grundtvig" -presentation by Ms Annalisa Colosimo – representative of EACEA, Brussels
Launch of the handbook and the documentary film

17.00-18.30 Panel discussion - theoretical introduction to the main seminar subject: "Synergies between psychodrama, sociodrama, drama therapy and Adult Education" with participation of experts and practitioners from all partner countries
2nd Day, 17 June, Thursday
9.30-10.30 Warm-up games and exercises – getting to know each other and discussing role and importance of this kind of activities
10.30-13.00 Insight into workshop program implemented in Romania – presentation of best practices, experiencing psychodrama phenomenon, open discussion.
Exploring interactions between different roles: Adult Educator, Adult Student, Vulnerable Adult Student, using sculpture, role playing and role reversal techniques. Preparing scenes involving various roles. Closing with sharing, role feedback and processing (
what has been done, how and why?
).
15.00-18.30 Insight into workshop program implemented in Cyprus - presentation of best practices, experiencing drama therapy phenomenon, open discussion
THE HERO`S JOURNEY
Using Joseph Campbell's idea of the Hero's Journey as the central metaphor of the workshop – traveling through its three main sections: Departure, Initiation, Return. Exploring specific tasks, obstacles and rewards characteristic for each stage. Closing: de-role and return to the everyday space, questions and discussion.
3rd Day, 18 June, Friday
9.30-13.00 Insight into workshop program implemented in Portugal – presentation of best practices, experiencing psychodrama/sociodrama phenomenon, open discussion
Making own mask and exploring its meaning. Becoming an artist - using a large selection of art materials. Searching for visual expression and playing with mask on. Closing: use of the statue technique, time for sharing thoughts, explanations and answering questions.
15.00-18.30 Insight into workshop program implemented in Poland – presentation of best practices, experiencing psychodrama phenomenon, open discussion
Reflecting on ethnic diversity of the workshop team using a group game technique. Role playing, improvisation and common effort to invent a story focused on intercultural exchange. Closing: final discussion and analyzing roles played by each participant.
4th Day, 19 June, Saturday
9.00-11.00 Summing up session with the exchange of best practices and open discussion
11.30-13.30 Evaluation and certification/closing ceremony
Annalisa Colosimo
(EACEA)
Project Manager for the Grundtvig Programme in the Education Audiovisual and Culture Executive Agency (EACEA). Graduated in Political Sciences at the University of Rome "La Sapienza". Ms Colosimo holds a master degree in European Affairs. She has been working for the European Commission since 1996. She worked as policy officer for the Directorate General for Environment and for the Directorate General for Research. In 2006 Ms Colosimo joined the Education Audiovisual and Culture Executive Agency (EACEA) where she worked for the first two years for the Youth Program as Program Manager.
Coordinator of the Romanian Potens team. Psychodrama therapist in private practice, psychodrama trainer and supervisor of SPJLM and Psychodrama Institut für Europa, director of Professional Committee of SPJLM. Working as supervisor in several NGOs on social field. Lecturer of Sapientia University Cluj, Miercurea Ciuc; associate lecturer Babes-Bolyai University Cluj. PhD in psychology (Eötvös Loránd University Budapest). Former coordinator of County Psychopedagogical Centre Harghita County (11 years, working with school children, their families, teachers and school counsellors).
Clinical psychologist, psychodrama therapist and trainer; working in projects for vulnerable children and adults; founder of Artemis - Association of Women against Violence, 12 years experience in working with sexually abused children and adult victims of violence and trafficking in persons; experience in training professionals working in intervention, prevention and recovery for victims of violence - children and adults; nationally certified trainer in adult education.
Senior psychiatrist at the Clinic Hospital of Emergency "Octavian Fodor", chief of the Psychiatry II section, Cluj-Napoca; senior consultant psychiatrist for medical-forensic expertises; psychotherapist, psychodrama trainer and supervisor. President of "J.L. Moreno" Psychodrama Society (Romania) since 1999, FEPTO co-president, former member of the PIfE Council, IAGP member.
Active in the international psychodrama community.
Dramatherapist and clinical supervisor. She trained at Sesame, Central School of Speech & Drama, England. For the last 10 years she has been living and working in Cyprus, pioneering dramatherapy both in the Mental Health Services and in the private sector, working with a wide range of client populations. She is a founder member of Panopeia – a group of creative arts therapists working to promote the use of the arts in therapy.
Professional adult educator and Youth leader with studies in USA, United Kingdom and other countries. He participated in many conferences, seminars, workshops, meetings in many parts of the world. He has developed training modules for adult educators and produced articles and contribution to international publications. He is a trainer of trainers. He is promoting European Union projects in many educational fields. He is seminar manager at many European seminars in the education of older adults, in special education, in intercultural learning, in learning difficulties.
Clinical Psychologist, Psychodramatist, Sociodramatist.
Lecture, Institute of Social Service of Porto. Trainer of the Portuguese Society for Psychodrama and of the Association for Family Planning. Member of Research Committee of the Federation of Psychodrama Training Organizations.
Training and Innovation consultant at SPI with large experience in development of training projects including need analysis, planning, coordination, management and evaluation of training courses for young job-seekers, employed adults and unemployed women. Certified trainer by the Portuguese Institute for Employment and Vocational Trainer. Certified trainer on Equality of Chances.
Clinical psychologist and psychotherapist, working at the Daily Psychiatric Ward (University Hospital, Krakow). She has been involved in running therapeutic theatre activities with her patients for many years and is the author of a book on combining psychotherapy with psychodrama and theatrical techniques - "Theatre which cures". As a certified psychodramatist from Psychodrama Institute for Europe, she runs training session in Moreno psychodrama method. She is a co-founder and president of the Polish Psychodrama Institute, established in 1999. Member of the board of an European umbrella organization Psychodrama Institut für Europa e.v, Berlin. She is also president of Association for Development of Community Psychiatry and Care, Poland.
Psychologist, psychotherapist.
Since 2000 he has worked therapeutically with the use of psychodrama methods. His professional experience includes working with people suffering from mental illness. He works in an integrated system of psychiatry and rehabilitation for people after psychiatric crises. In addition to his psychotherapeutic work, he is involved in the research and teaching students of medicine, psychology and workers from the social welfare centers.
Psychologist, has taught psychology as part of undergraduate courses at the Jagiellonian University, Kraków and has a record of research and publications in the field of philosophy, psychology (gender issues in particular) and education. He is also an experienced trainer of social competences and communication skills (including 2 international Grundtvig courses) and a coach in personal and communication skills in companies.
Krzysztof Tusiewicz
(Teatr Grodzki)
Recognized director of photography, film director and photographer. Directed several films depicting TG`s artistic and educational projects and contributed the photography and graphic design for several educational books published by Teatr Grodzki. Arts and ICT teacher working with vulnerable groups (9 years experience). Developed alternative arts-based teaching methods for disadvantaged learners in TG`s "Animated Debate" pilot project. Experienced leader of adult training seminars.
Maria
Schejbal
– POTENS Project Coordinator (Teatr Grodzki)
Head of Cultural and Educational Projects Department at Grodzki Theatre Association. Graduate from Jagiellonian University in Cracow (Drama and Theatre Department). Instructor of training programs for adult educators, therapists and volunteers (10 years experience). Workshop leader in theatre education (14 years experience – working with young drug addicts and youth at risk). Scholarship holder from Polish Ministry of Culture. Author of 6 publications for teachers and educators. Psychodrama Assistant. Member of ASHOKA Innovators for the Public.
Here you find the Polish Web- Site
and the POTENS- Website